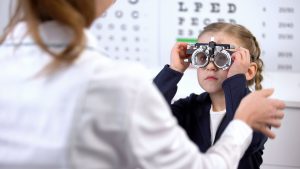 Social Media is the perfect way to help your Children's Eye Center get noticed online. What networks should you use to promote your eye center? What hashtags get more exposure? How do you find the time to create content and increase engagement? MILE Social will handle this so you can focus on your business.
A Google Business page will put your location in the palm of the viewer's hand. People look on Facebook for reviews and recommendations. What better way to showcase the excellent work you do? Let your happy patients create new customers by helping to tell your story.
We know social media, we will find your audience and put content in front of them regularly. Reputation Management is included in every package we offer, we will respond to all reviews and we can put out fires if needed.
If your Children's Eye Center is not on Facebook yet, you're certainly missing out on an important way to connect with your customers and their friends (future patients). Use social media to stay connected and build a deeper connection. Add your promotions and events to your website and Facebook to gain more exposure. MILE Social can also manage your website so you have even more time for your patients. We are experts in SEO and we manage over 10 million page views each year for our clients.
If you would like to learn more just request a free social media assessment. One of our account managers will review your information and send you additional details on what social networks will benefit you most, along with the benefits of each.
Call for more information 732-889-3322  x 705